Alternative to Buffer
There are plenty of auto-posting services for social networks, but none of them can boast having one so fantastic for usage.
Buffer has a nice alternative — it is called Postoplan. This service has 9 languages!: English, Russian, Portuguese, Spanish, French, Italian, German, Dutch, and Ukrainian — while Buffer uses only English.
Postoplan supports the same platforms as Buffer (Instagram, Facebook, Twitter, LinkedIn, Pinterest) + Google My Business, and the Telegram messaging app.
The Main Differences between Buffer and Postoplan
The alternative for Buffer does not limit its users with trial periods and fee plans. Each user has 7 free accounts on supported social networks and 1 on a messaging app. And, it is important that you can post for free without any time limits using this service! Yes, an unlimited number of users. Isn't it a miracle?
Table Comparison of Functions for Services Buffer and POSTOPLAN:
Service/functional
Project divisions/workspaces (min fee – max fee)
Project divisions/workspaces (min fee – max fee)

Unlimited projects for all types of accounts

Unlimited posts
Unlimited posts

There are limits to the number of posts

Yes, for all types of accounts

The division of published content into categories/headings (min fee – max fee)
The division of published content into categories/headings (min fee – max fee)
Cyclical Content Publishing
Cyclical Content Publishing

Yes, there is recurrent posting

Number of users (min fee – max fee)
Number of users (min fee – max fee)

1 - 6

Unlimited for all types of accounts
If you use Buffer, free use is limited to only adding 3 accounts on social networks, planning 10 posts, and only 1 user. The price is a minimum of $15 per month, and the maximum is $99.
We remind you that there are no fee plans for Postoplan at all. You can work through it for free. You pay only for an ability to use advanced functions (connecting PRO status to your free account). A PRO account costs $1.90 per month. This means that the maximum amount in a month that you can spend on Postoplan is much less than the minimum payment in Buffer. Isn't it obvious yet which choice you should make?
Postoplan will save your time and patience
How the Buffer alternative helps users work with social networks — it is a special feature. Postoplan has a calendar of publications with news hooks every day. In total, it has more than 700 ideas. It helps each user satisfy their readers with posts more often but also helps to make the content different. There is no such function in Buffer.
In addition, when you are working with Postoplan, you don't need to worry about whether your post was published at a certain time or not. You will receive notifications about the status of each post. (To turn on this function, let the service send you notifications through your browser settings.) Buffer can send only notifications about the posts on Instagram.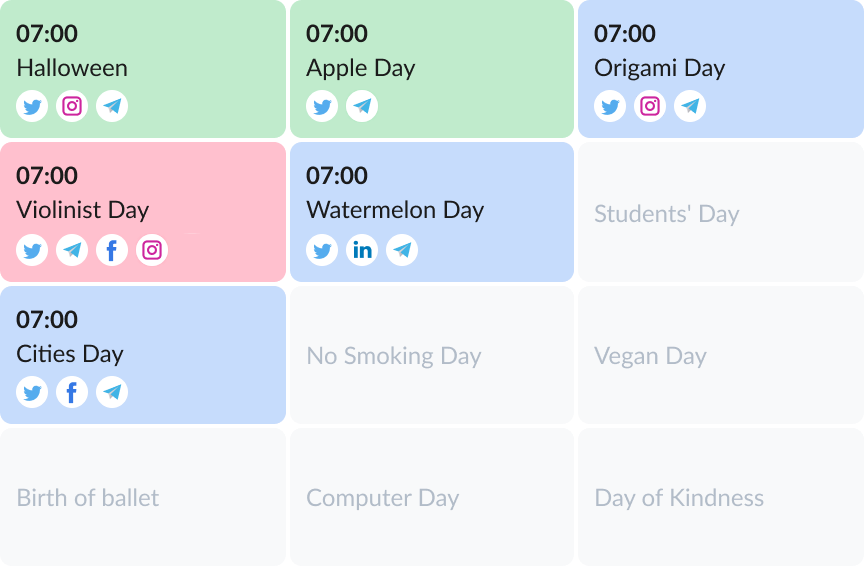 If Buffer didn't have alternatives, you might be forced use it, spending money on fee plans, just paying for the functions you never use and don't need.
What about Postoplan? Everything is simple here. This alternative to Buffer gives users the possibility to work for free without limits. For additional functions you need, buy a PRO account (for just $1.90 per month). If you need to connect more accounts, except basic free accounts 7 on social networks and 1 for a messaging app, connect as many as you need. There are no limits on the numbers of accounts. The maximum number of accounts on Buffer is 25. And if you need 26 or even 100, for example, what will you do?
vs
You can get your money's worth with Postoplan. This service has a good affiliate program, and if you would like to join, you can start earning from $100 just for recommending it to others.
One of the main advantages of Postoplan compared to Buffer is its 9 ready-made themes for the interface design for your choice!
In conclusion, we can say for sure that the alternative to Buffer is much more useful. Postoplan has everything you need to work with social networks, no limits to be found.