Alternative to Buffer
If you are using Buffer to manage your social posts, one alternative you might want to consider is POSTOPLAN.
In addition to the same social platforms as Buffer (Instagram, Facebook, Twitter, LinkedIn, Pinterest), POSTOPLAN supports Google My Business the Telegram and WhatsApp messaging apps.
Yes, you got it right: WhatsApp! POSTOPLAN is the only online service in the world to offer automatic posting on that platform. We revolutionize SMM!
Even though POSTOPLAN is fairly young, it has already earned numerous awards and is being trusted by more than 10,000 companies from 140 countries.
Main differences between Buffer and POSTOPLAN
With Buffer, you can sign up for a free 14-day trial, after which you will need to buy a paid plan. POSTOPLAN has no trial periods and paid plan sat all –instead, each user is provided with 7 free managed pages on supported social networks plus 1 on a messaging app. Better yet, this software can be used by an unlimited number of users under the same registered account, which comes especially handy for businesses. Isn't that great?
Comparison of Buffer and POSTOPLAN features:
Service/functionality
Project divisions/workspaces (basic plan – maximum rate plan)
Project divisions/workspaces (basic plan – maximum rate plan)

Unlimited projects for all account types

Unlimited posts
Unlimited posts

Limited number of posts

Yes, for all account types

Published content organized by category (min fee – max fee)
Published content organized by category (min fee – max fee)
Recycling old posts
Recycling old posts

Yes, and it's a truly useful feature

Number of users (basic plan – maximum rate plan)
Number of users (basic plan – maximum rate plan)

1 - 6

Unlimited for all account types
If you use Buffer, your free plan after the end of the trial period will be limited to only 3 social pages, 10 scheduled posts, and just 1 user. Paid plans start at $15 per month and go up to $99per month.
As we mentioned, POSTOPLAN has no paid plans at all. You can work totally free of charge or pay to use advanced functionality (PRO account)as little as $1.90per social page per month. Thus the maximum monthly amount you can spend on POSTOPLAN is way less than the minimum monthly payment Buffer charges.
POSTOPLAN will save you time and effort
POSTOPLAN has a publications calendar with news hooks for every day. In total, it has more than 700 news worthy post ideas. It is crucial for your social media presence to be regular and frequent in order to keep existing followers and acquire new ones. Buffer has no similar feature.
In addition, with POSTOPLAN you don't need to guess whether your post gets published at a certain time . The software notifies you about the status of each post. Buffer can send notifications only about Instagram posts.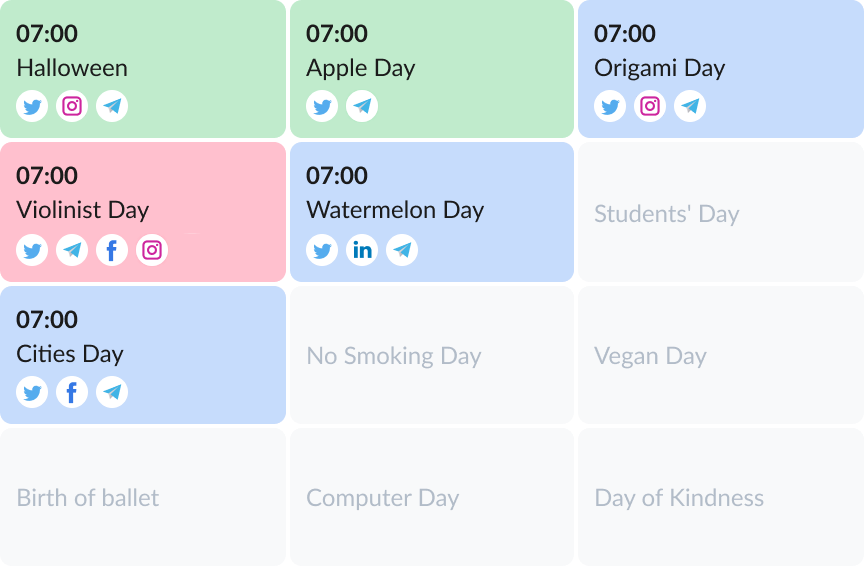 As an alternative to Buffer, POSTOPLAN gives you the ability to manage as many social pages as you need. The maximum number of social pages in Buffer is 25. Are you wondering what would you do if you needed 26 or even 100? We are, too.
vs
You can definitely get your money's worth with POSTOPLAN. This service has a great affiliate program that enables you to start making money immediately, from $100 and up just for recommending it to others.
Other nice advantages of POSTOPLAN as compared to Buffer include ready-made interface design themes and 9 language versions (Buffer has only English).
In a word, POSTOPLAN offers all you need to manage your social pages, without any annoying limits.