POSTOPLAN is an award-winning service trusted by 100,000+ specialists and companies from 147 countries
Social Media Marketing May be Effective!
Do you have several pages on different social platforms?
We know the problems you're facing.
Most importantly, we'll help solve them!

vs
Maintaining accounts on social networks brings in a few clients. You make posts, but your number of subscribers increases only slightly and you don't gain clients.
Regular publishing with the POSTOPLAN system is key to generating 74% more traffic and subscribers from social networks.
Social media marketing is spontaneous. Account posts are made when you have time for them and are not a priority.
With POSTOPLAN you can schedule a time for posting when the target audience is most interested. The system will publish your posts without you needing to do anything. Automatically.
Due to the uneven placement of content on your accounts, the natural reach of publications decreases.
With POSTOPLAN, your content is automatically published and seen by an increasing number of people. With regular posting, your reach will increase by 30-70%: for free.
Using the POSTOPLAN system, you can get:
up to 90%
savings on social media marketing with free accounts on POSTOPLAN
up to 40%
customer growth thanks to increased publication coverage, with no additional ad spending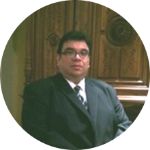 Alejandro Arriola Tello
Arriola & Asociados
Socio Fundador

"With POSTOPLAN, I can control and schedule all my posts. It lets me manage my time and all my social networks using the same tool. I was able to reduce the time I spent on scheduling and analyzing data by more than 70%." Read the full review
We Create Outstanding Opportunities
for Social Media Marketing
An unlimited number of Social Media accounts
That's right, add any number of accounts in social networks and messengers
Two cool graphics editors to make your posts pop
Simple and with a constructor, and a library with 5,000+ photos
Post to multiple accounts at once
Choose content and post it everywhere at once. It's convenient and saves time
Not only well-known social networks
Google My Business, Telegram and WhatsApp compatibility
An unlimited number of users
Add colleagues, clients, or employees to work together
Preview publications
Post content and see in advance how it looks on each platform
Communicate with subscribers in your Social Inbox
No more switching between accounts. Everything is available in one place
Over 700 calendar post ideas and suggestions
The POSTOPLAN calendar has several ready-to-use news hooks for every day
An unlimited number of projects
Add accounts to different projects to give different people access to them
Integration with Slack and WordPress
And with other services you need for more comfortable work
Mass scheduling
Easily schedule your content for months ahead
... and many other cool features
Social Media Marketing Need not be Boring!

Black text on a white background is unoriginal.
Change the interface color whenever you want.

Default
Dark
Red
Green
Purple
Dark violet
+ Even more themes in your account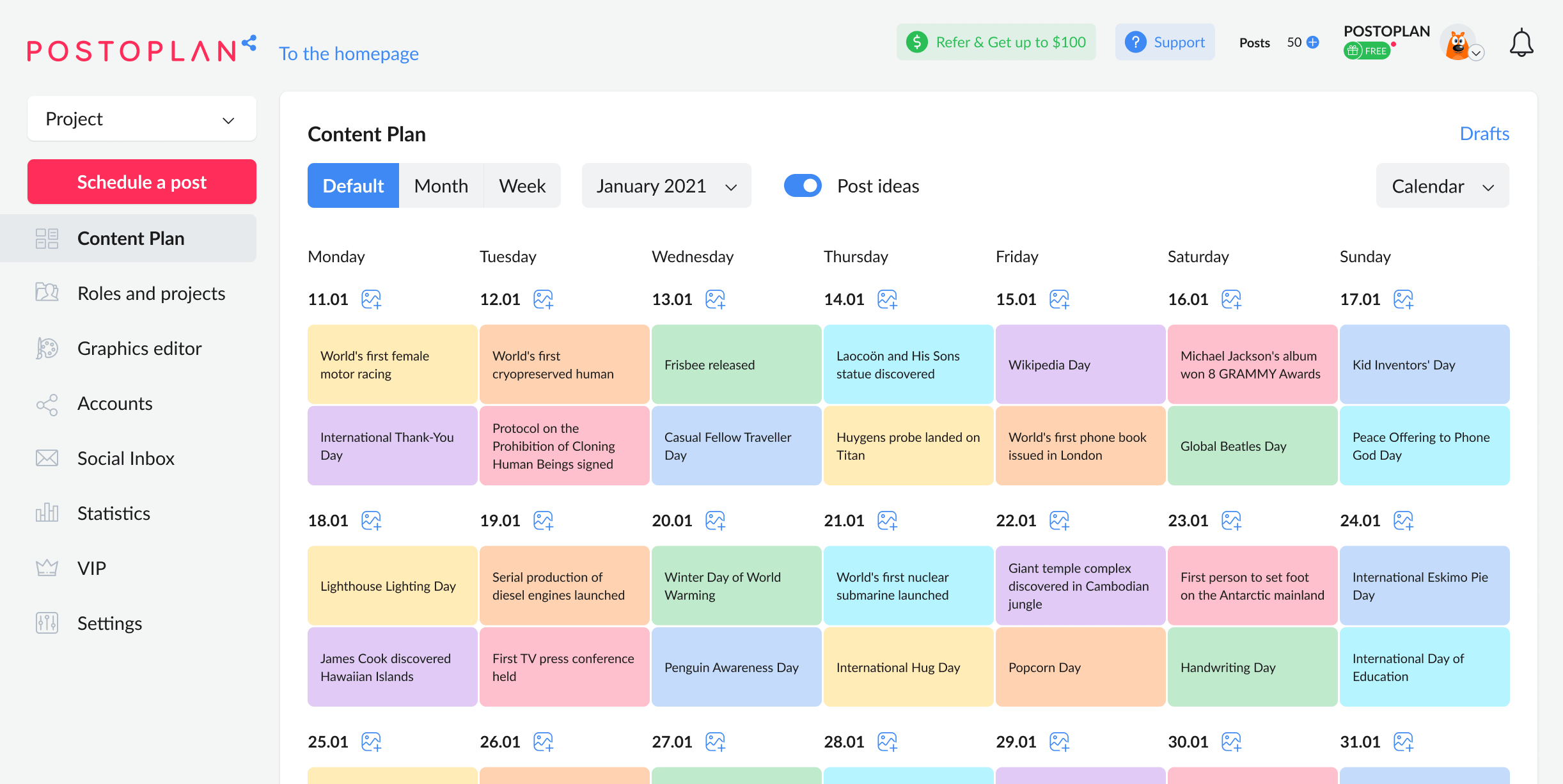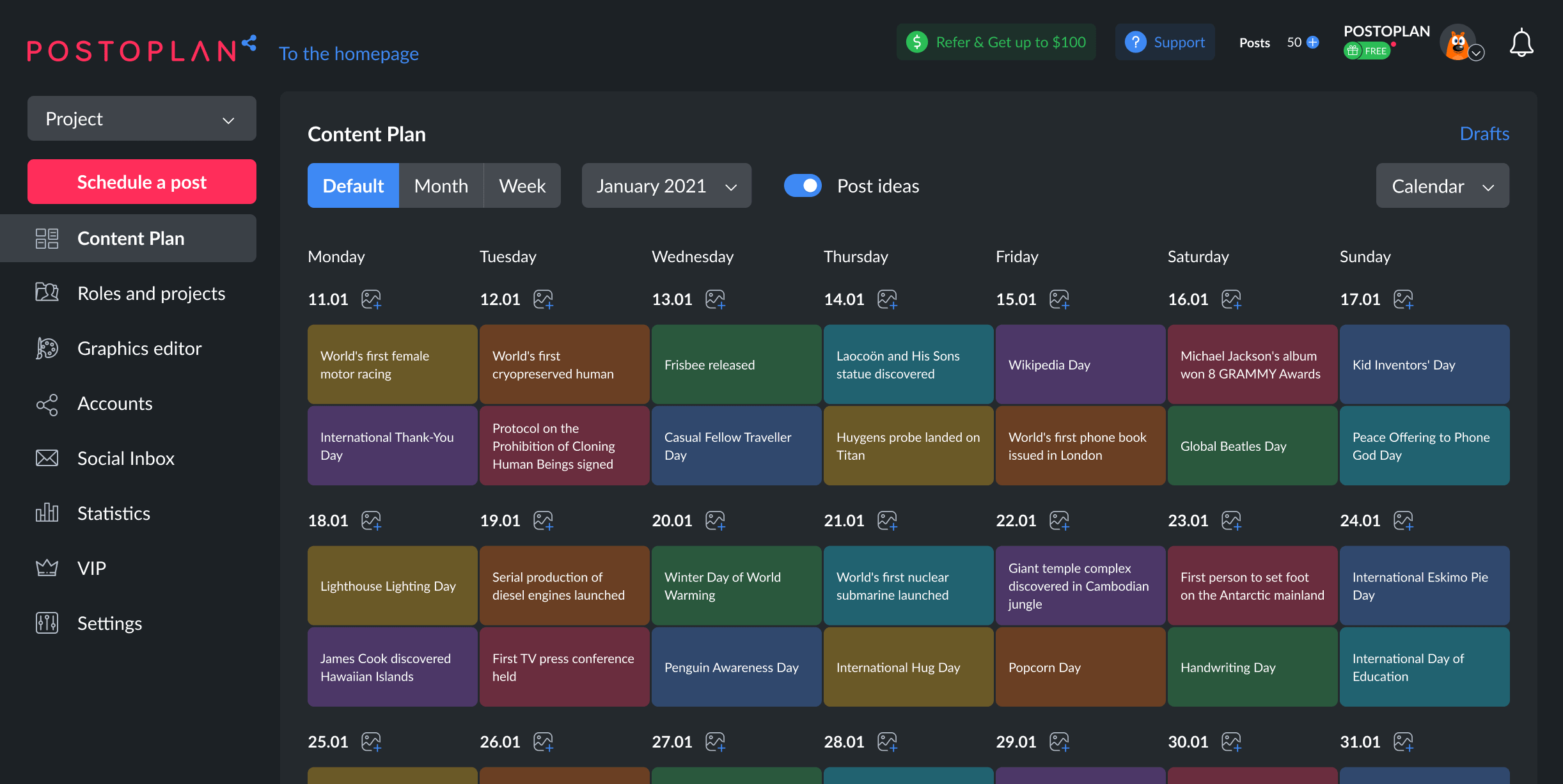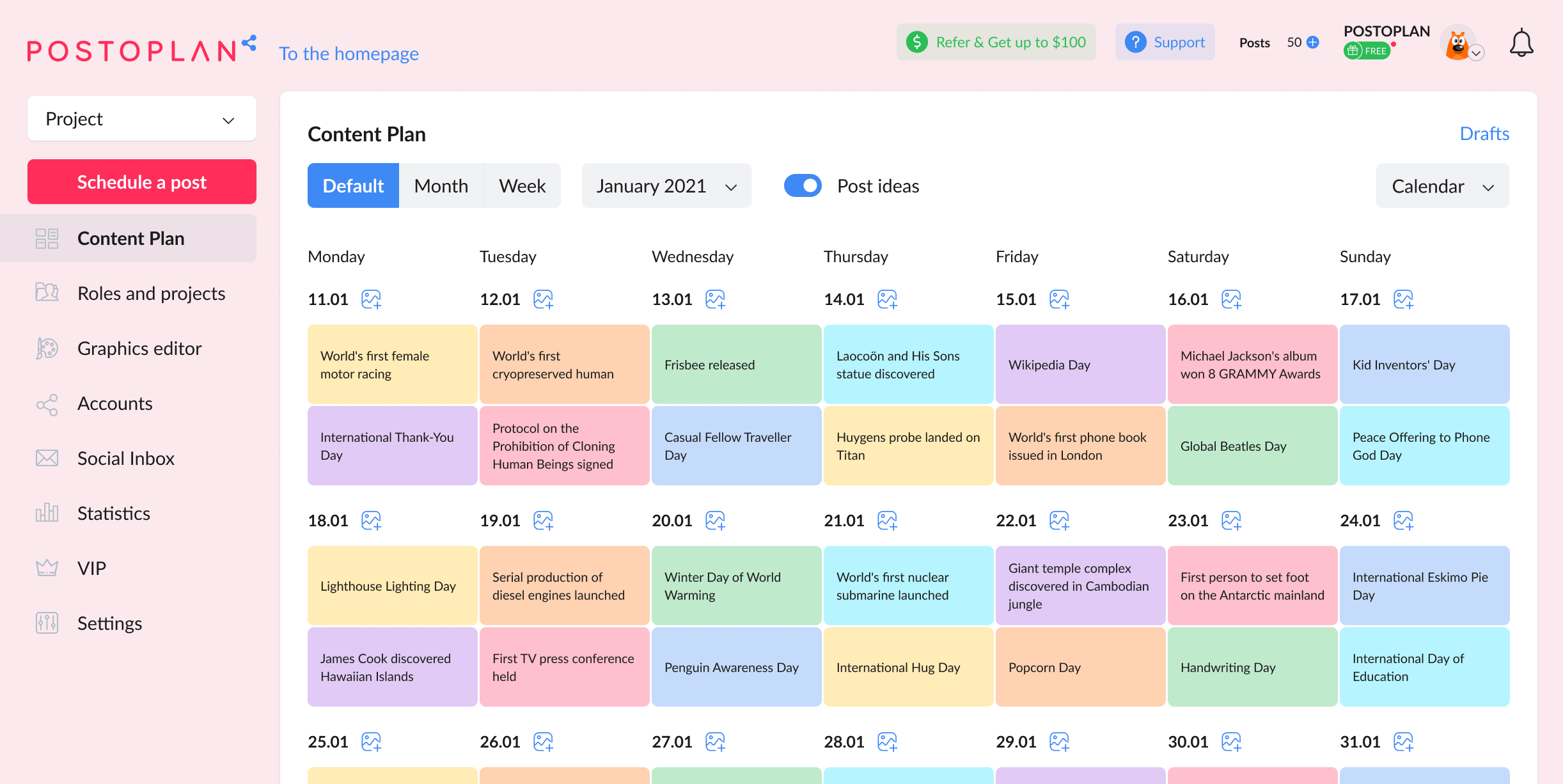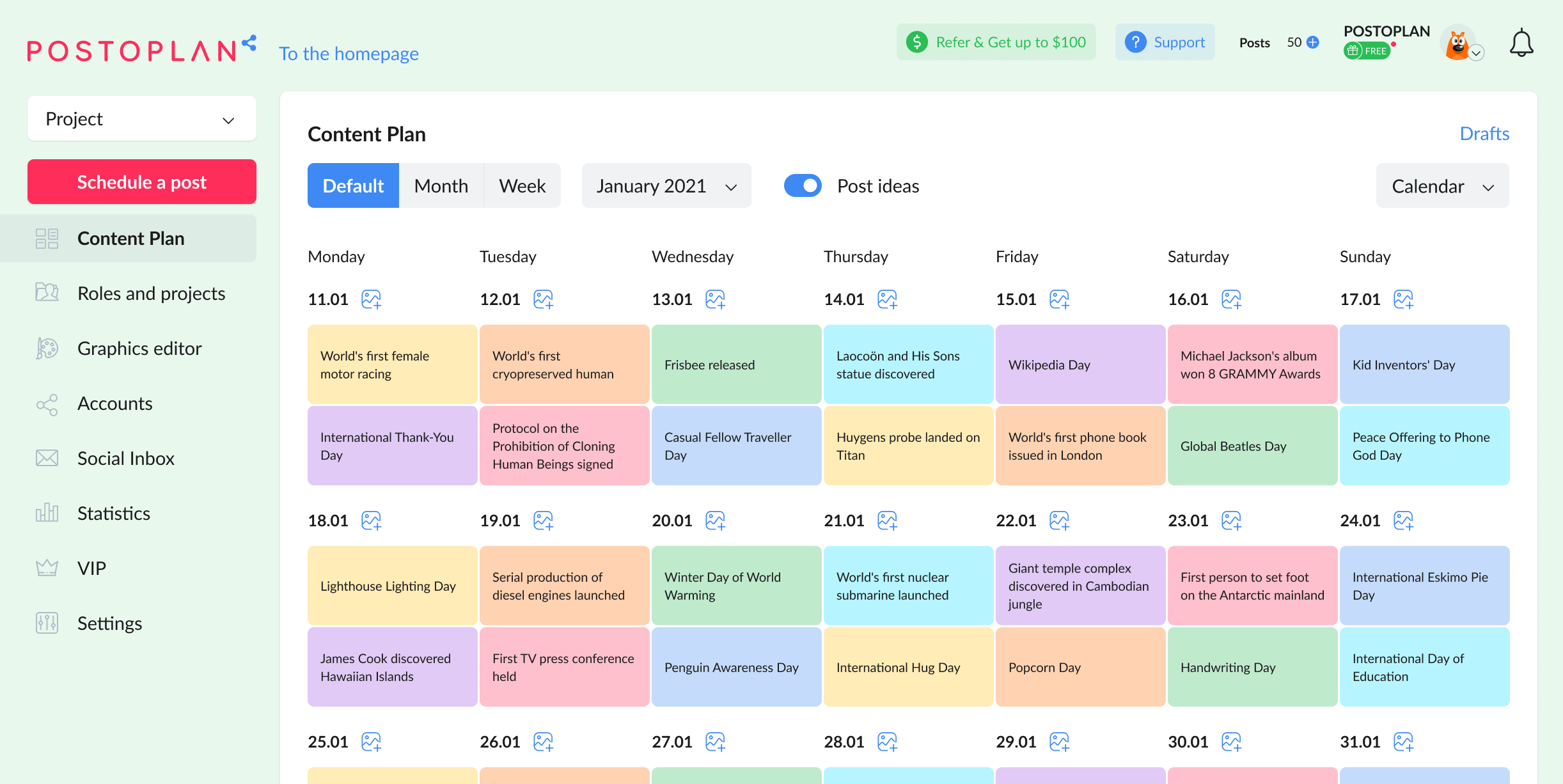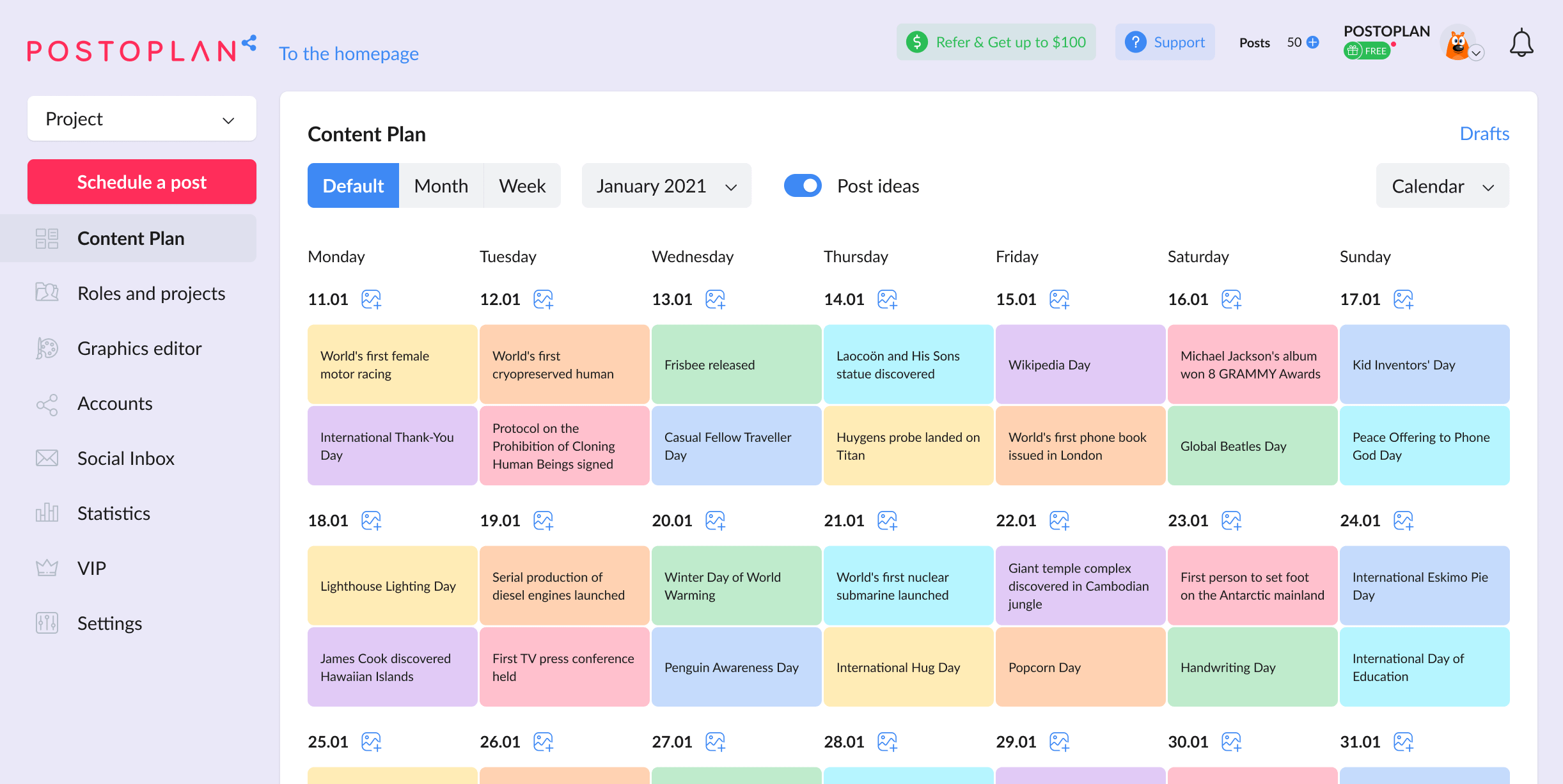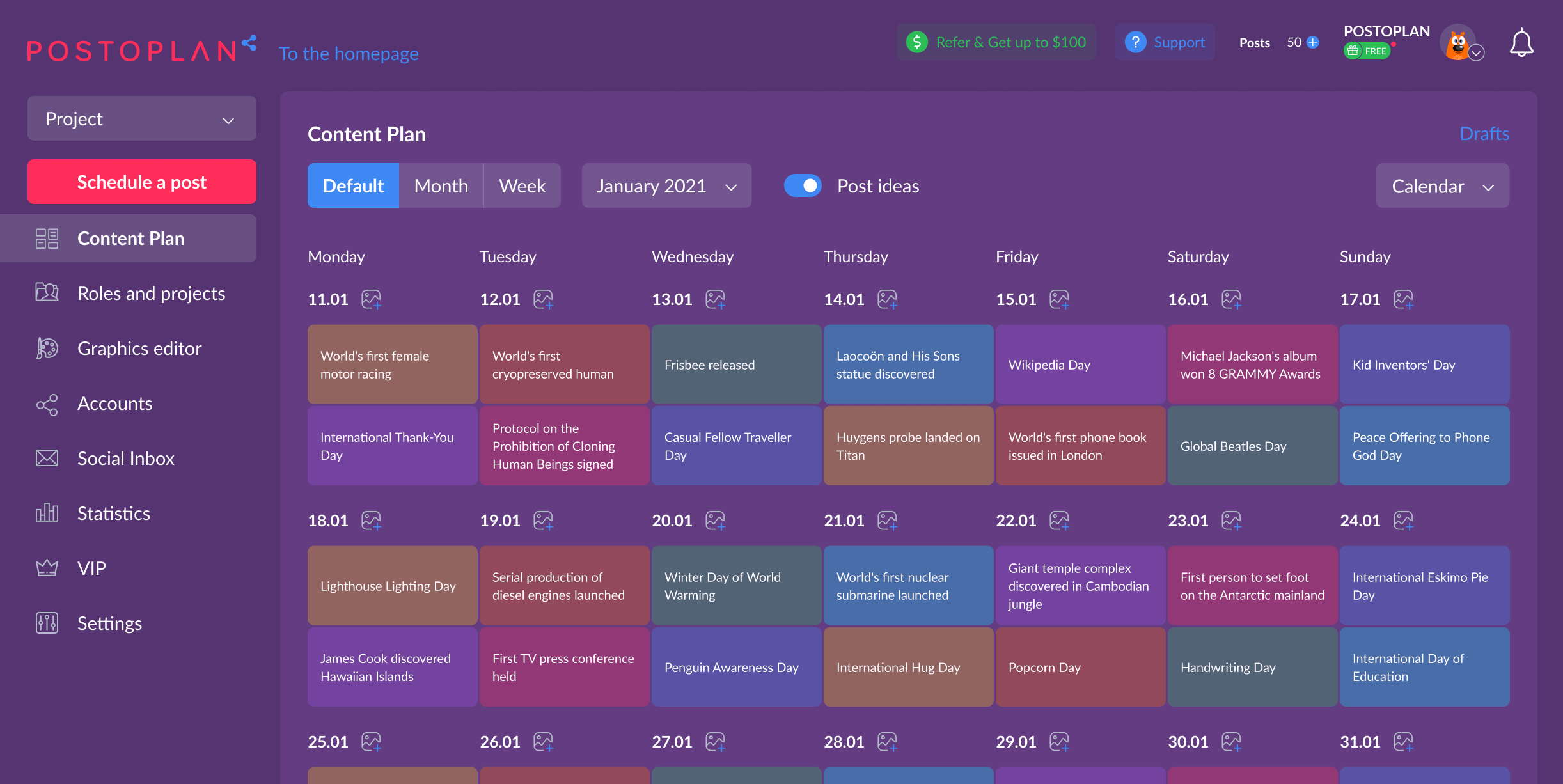 + Even more themes in your account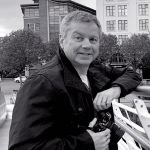 Craig Paterson
Cohorts by Design
Director

"There are also some nice touches like being able to change the interface theme between 10 different themes so that you can go darker (my personal favorite), lighter, or even more colorful. And there are daily suggestions for post content available if you want some extra inspiration." Read the full review
Thanks for mentioning POSTOPLAN